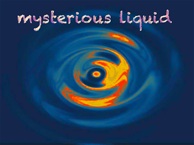 Here's what people are saying about Mysterious Liquid:


"A seminal work from a gifted and prolific composer. His command of his craft is astonishing. Blah, blah, blah"
-Leonard Feather, music critic
"You're sick."
-Cate Potyen, psychotherapist and spouse

"It's sooooooooooo beauuuuuutiful"
-Ray Scott, jazz guitarist

"It's sooooooooooo beauuuuuutiful"
-Madeline Eastman, jazz singer

"Sounds like Wynton Kelly on acid."
-Tod Barkan, owner, Keystone Korner

"Yeah, cool. You know where I can get some weed?"
-Brother Jack McDuff, jazz organist

"Nice hat"
-Thelonious Monk, jazz pianist

"Frightening"
-Stephen King, author

" A seminal work from a gifted and prolific composer"
-John Diliberto, producer, Echoes

" A seminal work from a gifted and prolific composer."
-Stephen Hill, producer, Music from the Hearts of Space

"This @#$%!! got too much time on his hands."
-Miles Davis, jazz musician

"Sounds like Cate forgot to lock your cage, huh Pote?"
-Harn Soper, entrepreneur and bon vivant

"Pleasant."
-Tom Harrell, jazz trumpeter

"Have you been taking your medications?"
-David Plotsky M.D. and brother-in-law

"I hope he fails"
-Rush Limbaugh, professional blowhard

"On one hand, I like it; on the other hand, I don't"
-Barack Obama, politician


"Hey, P! How 'bout I sue your ass for using my name on this thing?"
-Mike Clark, jazz drummer


For those of you who have a really short attention span,
try the "Cliff's Notes" version here




Thoughts from the composer:

I'd like to express my appreciation for all those who helped make this recording such a success, both from an artistic, as well as a commercial perspective. Mike, your groove is the best. Tom, you're an inspiration! And Barbara, what can I say? You're beautiful. Love you babe. My heartfelt gratitude to all of you for your contributions. I'd also like to thank the people who have been most influential and inspiring to me throughout my musical career: Slim Gaillard, Spike Jones, Victor Borge, Steve Martin, Martin Mull, the Bonzo Dog Doodah Band, Frank Zappa, Lothar and the Hand People, Buddy Love, and Reed Watley, just to name a few.




SPECIAL OFFER! If you can identify 4 out of the 5 liquids used in the production of this track, you may qualify for a special prize.}

And here's a free Mysterious Liquid ringtone!